Drum Books (Bellson-Endorsed)
Bellson-Endorsed Drum Books
(Click covers to order)
"How To Write a Fast & Easy Drum Chart" by Liz Ficalora - 2008, 2012 (Bellson Endorsed)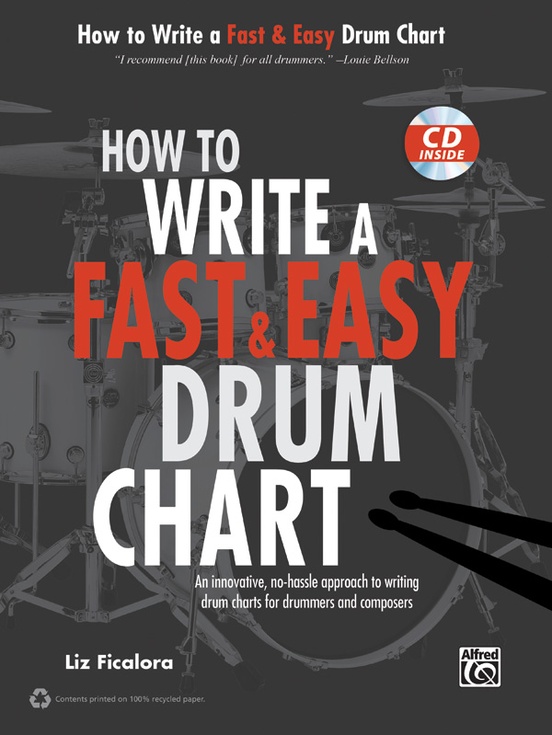 A simple 12-step guide to writing a drum chart for cover and original material.  This guide is written for the advanced to professional drummer and composer.
Available with CD inside.
"Inside the Big Band Drum Chart" by Steve Fidyk -  
2008 (Bellson Endorsed)  
Inside the Big Band Drum Chart is a first of its kind drum method that uses traditional and contemporary arrangements performed by a 17 piece jazz ensemble as the vehicle to study beats, musical form, ensemble phrasing, articulation, and interpretation. The 248 page book includes a 2.5 hour MP3 CD and an hour long DVD demonstrating every exercise in the text. Also included are anecdotes and interviews with legendary big band drummers and arrangers such as Louie Bellson, et. al.
"Mastering the Tables of Time" by David Stanoch - 2008 (Bellson Endorse
Mastering the Tables of Time uniquely combines the foundations of rhythm and the foundations of trapset drumming using a common system to assimilate the disciplines of timekeeping, coordination, rudiments, polyrhythms, and musical phrasing.

"The Drummer's Bible" by Jason Gianni & Mick Berry - 2003 (Bellson Endorsed) 

How to Play Every Drum Style from Afro-Cuban to Zydeco is the most thorough compilation of drumming styles ever assembled in a single volume. It provides over 350 drumming grooves in over 70 styles, plus dozens of fills. The accompanying CDs provide nearly 200 grooves, focusing on the most important examples and variations from every style. Passages by Louie Bellson.
"Gretsch Drums: The Legacy of That Great Gretsch Sound" by Chet Falzerano 
This tribute to Gretsch kits features full-color photos and interviews with sensational players like LOUIE BELLSON, Jimmy Cobb, Chuck Flores, Phil Grant, Jake Hanna, Elvin Jones, Don Lamond, Charlie Persip, Dick Shanahan, and others. Written by Chet Falzerano, a contributor to Modern Drummer, Percussive Notes, and Not So Modern Drummer magazines, plus the books Guide to Vintage Drums and Star Sets.