Bellson in Others' Books
Bellson in Others' Books
(Click covers to order)
The History of Italian Americans In Jazz (2015) 
(2015)
Book by Bill Dal Cerro featuring Louie Bellson et. al.
For info, click pic or: ItaliansInJazz 
LUCKY DRUMMER: from NYC jazz to Johnny Carson (2012)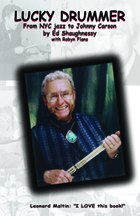 Released at the Chicago Vintage Drum Show, May 2012.
Rebeats Publications unveiled this exciting biography of big band drummer Ed Shaughnessy of "Tonight Show" fame.  Written by Shaughnessy with Robin Flans, the book is a  fascinating read into the history of both the man and the times.  Extensive references to Louie Bellson et. al. throughout.
(Click cover) --->
THE BIG GIG (2011) 
The Big Gig is an intriguing and comprehensive insider's guide for independent musicians … And much more! "The Big Gig" is a metaphor for ...life! ... Zoro provides a template for success – for everyone, regardless of career – by covering the vocational, personal and spiritual aspects of achievement. 
Shown here with Mrs. B, Zoro includes endearing references to Louie Bellson, et. al. in the book.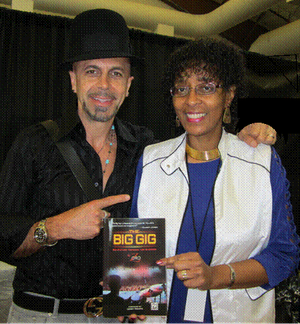 For more, go to: thebiggigbook.com   or click book pic above.
CLARK: The Autobiography of Clark Terry (2011)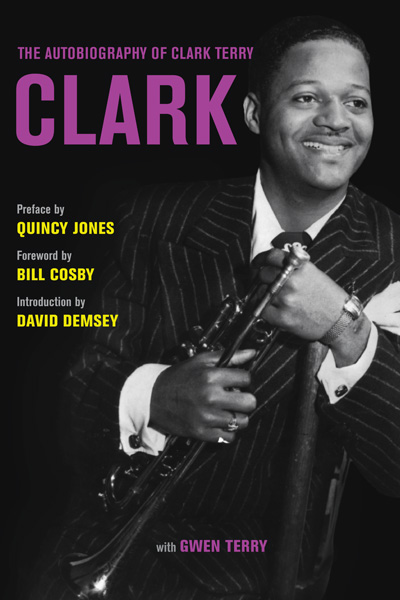 Compelling from cover to cover, this is the story of one of the most recorded and beloved jazz trumpeters of all time. With unsparing honesty and a superb eye for detail, Clark Terry, takes us from his impoverished childhood in St. Louis, Missouri, where jazz could be heard everywhere, to the smoke-filled large clubs and carnivals across the Jim Crow South where he got his start, and on to worldwide acclaim.  Behind the scenes of jazz history, he introduces Louie Bellson and scores of other legendary greats--Ella Fitzgerald, Oscar Peterson, Dizzy Gillespie, Dinah Washington, Doc Severinsen, Ray Charles, Thelonious Monk, Billie Holiday, Sarah Vaughan, Coleman Hawkins, Zoot Sims, Dianne Reeves, et. al. Terry also reveals much about his own personal life, his experiences with racism, how he helped break the color barrier in 1960 when he joined The Tonight Show band on NBC.
(Click cover for info)
Tales from the Cymbal Bag (2010)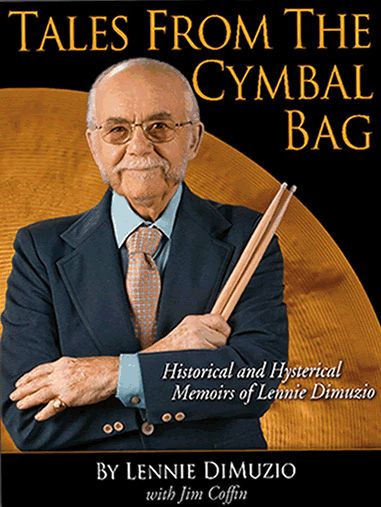 Released at PASIC Nov 2010. The long awaited new book by the inimitable Lennie DiMuzio ... The man ... who is responsible for the cymbal sound of practically every major drummer of the last half century, tells the story of his life in the industry ... If it had anything to do with drums and drummers, Lennie was there and has a tale to tell. Incls. one entire chapter (20) on Louie.
"Lennie DiMuzio is the only guy besides me who knows the individual sound I'm after."                                              —Louis Bellson
(Click bookcover) -->
Sticks 'N' Skins: A Photography Book About the World of Drumming (2009) 
STICKS 'n' SKINS HIGH ON MUSIC LOVERS GIFT LIST! Featuring Louie Bellson & over 500 drummers. Book debut - Oct 2009.
www.sticksnskins.com (or click bookcover)-->
Sticks 'n' Skins: A Photography Book About the World of Drumming 
(hardcover)
Visiting Jazz: When American jazz musicians open their door (2009) 
A compilation of Thierry Peremarti's "At home with..." columns, originally published in the French jazz magazine -Jazzman- from 1999 to 2009, has been published as a book. Louie Bellson was one of the interview subjects at his home in southern Calif. What a treat for our French-speaking fans!
Visiting Jazz: Quand les jazzmen Américains ouvrent leur porte (broché)
Langue de livre : Français
(click bookcover)-->
Thelonious Monk: The Life and Times of an American Original (2009) 
In the new biography of pianist Theolonious Monk by historian Robin Kelley, jazz contemporary Louie Bellson appears with Monk in a Columbia University program which turned out to be "an experience in living history." (p. 181-2) 

Thelonious Monk: The Life and Times of an American Original
(hardcover)
(click bookcover)-->