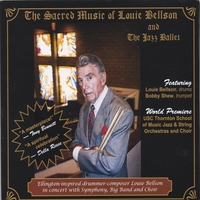 Roy Gray (www.roygray.com) interviews Mrs. Bellson about "The Sacred Music of Louie Bellson" CD on Roy's program, "Jazz, Joy and Roy" on "The International Christian Network" (ICN) online Radio Station on
Tues May 26 at 7 pm pacific time (10 pm eastern).
Although Mrs. B's interview isn't until 7:30, we recommend you set your computer a little
before
7 pm so you'll catch the entire program & interview. Just click: http://www.theicn.com/online/pages/stations.php?stationID=113187 Then click
TUNE IN
in orange letters and wait for the broadcast to kick in.
Tell your friends and Enjoy!
_______________________________________________________________